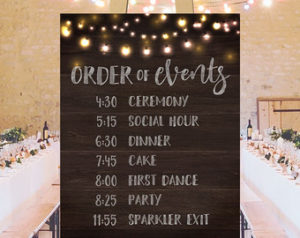 Before you start signing on the dotted line to confirm your venue, you'll need to check the availability and book your ceremony. Believe me when I say, ceremony slots get booked up very quickly regardless of whether you're booking a registrar or someone to conduct a religious ceremony so never assume on availability. In order to book your ceremony you need to have at least a rough idea of timings so you can commit to a ceremony time.
Timings can be a bit of a logistic nightmare and it's often what couples ask for my help with so I thought I would share with you some tips and guides to how to plan out your day…
Firstly, there are a few factors to consider:
1. Will there be additional guests coming in the evening?
2. What type of ceremony are you having?
3. Is the ceremony being held at the same venue as the reception and if not how long is the travelling distance between the two locations?
So where do you begin? Start at the end and work backwards!
Getting the start time of your evening festivities right is more crucial if you are having evening guests. You want your evening guests to still feel a part of your day so it's important to make the evening reception into an event in its own right. I would normally suggest setting the arrival time at around 7/7:30pm in this case. If you're planning to have a first dance make sure you give your evening guests time to arrive before you start as we all know that people don't arrive on time for evening receptions! Why not also save the cutting of the cake and/or bouquet/garter toss till the evening to give a bit more formality to the evening? Have your cake table moved onto the dance floor and with all your guests gathered around cut the cake (with two strong people on standby to quickly remove the table afterwards), then throw your bouquet, toss the garter before taking your husband/wife in your arms for your first dance which will lead nicely on to you all dancing the night away!
If you're having a band you'll need to speak to them about how many sets they do and how long each set will be so you can plan what time you want them to start. It's worth having them start straight after the first dance when you've already got your guests on the dance floor. They will need a break between sets so if you are having evening food serve this during their break, that way you won't distract people from dancing and the evening food is less likely to be missed.
If you are no additions in the evening then you might decide to start things a bit later and have a shorter evening reception but for now let's assume you are having evening guests. The last thing anyone wants is for evening guests to start coming in the room whilst everyone is still sat eating or listening to speeches. It's embarrassing and awkward for everyone involved! We all know that weddings often don't run to time so allow yourself some buffer time.
Another point to check is whether your venue insists on a turnaround between the day and evening. Some venues will just clear around your guests whilst other require all guests to vacate the room so they can re-set it. In this instance be sure to find out where guests can mingle whilst the room is being re-set. You could then make this into a second "drinks reception" for the evening guests before all guests are called through to the room to start with the evening festivities. Either way I would give yourself at least a 30 minute buffer before the time you've invited evening guests as a precaution.
Now, let's move on to the day proceedings. It's completely your choice what order you have your speeches and meal. You could start with your speeches and then the wedding breakfast or vice versa. Your other option is to split the speeches up between courses. My main advice if you go with this option would be to avoid speeches between starters and main course if you're having a plated meal. The main reason for this is that if your speeches go on longer than expected either your mains will be going cold or there will be a delay in serving them as the Chef won't start plating them until they are ready to be served.
The tradition for speeches is 3 and in the following order: Father of the Bride, Groom and Best Man but obviously times have changed and this is not always the norm now. Try not to have too many speeches or you'll start to lose your guests' attention. Think short and sweet. Advise those people planning to speak to aim for a 5 minute speech because on the day it will be more like 10 minutes with audience interaction. So let's say you stick to just 3 speeches and you allow 10 minutes for each, that's 30 minutes but you might want to allow 45 minutes just in case anyone didn't listen to your instructions on timings!
Your caterers/venue will be able to give you guidance on how much time you should allow for the wedding breakfast (that's the main meal by the way, the "breakfast" of your married life, just in case you hadn't heard that term before) but based on a 3 course plated meal, I would suggest normally about 2 hours. It will give you a nice relaxed service and allow you time to mingle with your guests. Obviously if you are having additional courses or a different type of service for the meal you'll need to consult with your caterers for their guidance on how much time they need.
Believe it or not I would always suggest you allow half an hour for everyone to take their seats and that's WITHOUT a receiving line! Rounding people up to get them to take their seats can often be like herding cats. If you opt to have a receiving line then 45-60 minutes depending on the number of guests and the number of people in the receiving line is probably more likely. Receiving lines take a lot longer than people expect but realistically how many people could just stick to "hi thanks for coming…NEXT" in order to speed things up.
When thinking about your drinks reception you want to find a nice balance between enough time for your photographer to capture all of your desired shots and still have time to enjoy a drink whilst mingling with your guests but not letting it go on and on to the point that your guests are either drunk or bored! An hour and a half is normally a good amount of time. If budget allows offer 2 drinks per person and some canapés or nibbles. We don't want your guests sozzled too early!
Now we move on to the big reason for the day…the ceremony! Civil ceremonies normally last about 30 as long as they start on time so it may be best to allow about 45 minutes to give you a bit of time to be fashionably late but be warned registrars get booked back to back during peak seasons and if you arrive too late you may risk them not being able to conduct the ceremony. Church ceremonies tend to last a bit longer, 45-60 minutes so it's wise to air on the side of caution and allow an hour. If you're having the ceremony at the same location as the reception you don't need to allow any travel time but if you ceremony is being held elsewhere you will need to allow for the travelling time as well as time for inevitable mingling and post ceremony photos outside before people jump in their cars.
People are normally quite good at arriving on time for a ceremony but if you're particularly worried, my suggestion would be to change the invite wording to read "arrive by [TIME]" instead of "ceremony at [TIME]" and put the time forward by say 15-30 minutes (30 if you're really worried). Then if the notorious latecomers do arrive late they'll still be there in time for the ceremony.
Lastly allow plenty of time to get ready on the morning of the wedding and aim to be in your dress an hour before the ceremony time. This will give you a bit of a buffer but you'll also get a chance to sit and relax with some bubbles, have a few photos without getting flustered before saying I do!
Now don't forget this is just a guide because every day is unique. If you would like me to help you get your timings in order you only need to book a consultation with me and we'll have those timings running like clockwork in no time!
Happy Wedmin-ing!
Love Amy x
Thanks for reading this blog!

If you have any further questions please feel free to contact me by email or on 07729230136.
To read more of my blogs…