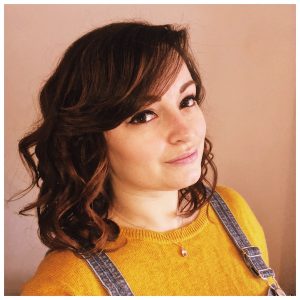 One of my Bride's from last year was recently featured in Whimsical Wonderland Weddings and she said the main reason for choosing to book my On The Day Co-ordinator Package was because in her words "I was determined to do everything myself, but soon realised that on the day I wanted to just be a bride and having Amy there meant this could happen". I think that will probably resonate with a lot of Brides and Grooms out there. You might feel totally in control of all of the planning but when it comes to the day you just want to be able to enjoy every moment without thinking about logistics.
Let's talk about some of the ways I can help…
In an ideal world every couple would get access to their venue the day before and have the whole day to set things up just the way they wanted or sit back and supervise all their suppliers leisurely working their trade creating the masterpiece that will be the setting of your big day, but in reality budget and availability work against this dreamy concept. So the alternative is most likely a rushed set up the morning of the wedding when you'd rather be relaxing and getting ready. With this in mind I created my Setting Up Packages which can either been booked on it's own or along side the On The Day Co-ordinator package.
As a standard I offer two packages: "The Little Touches" and "The Bigger Picture" but I am very well aware that requirements for setting up don't always fit into standard categories so if that's the case It always worth having a chat and potentially we can create a bespoke set up package that fits your needs. Anyway, back to the packages; "The Little Touches" package is aimed at those who just need someone to come in and set up the finishing touches whereas the "The Bigger Picture" is perfect for a DIY venue when you're tasked with setting up tables, chairs etc. With these packages the idea is you can talk me through how you want everything set up and I will make it happen without you having to lift a finger or even give it any further thought. Even if you do have the venue the night before you can still book one of these packages and watch me work or get on with your many other to dos while I get busy.
It's the day of your wedding, you've book all of your suppliers, everything's ready to happen but who's going to make sure what you've worked so hard to organise will actually play out as planned?!
If you're booking a DIY venue you will no doubt have multiple suppliers involved from catering, bar service and even furniture hire…
Pros: you have more choice so you can select the suppliers that work best for you and your vision for the day…
Cons: there won't be one person responsible for overseeing all of the suppliers.
Maybe you're a little bit nervous about your venue and want someone there to subtly keep their eye on things.
Whatever the reason, this is where I can step in!
I think of my on the day wedding co-ordinator role as a bit of swan role! Let me explain what I mean, have you heard of the saying about a swan… calm on the surface, but always paddling like the mad underneath
Well I see my role as just that, working tirelessly behind the scenes so that the running of the day is calm and smooth for the happy couple and their guests.  No one needs to see the hard working going on, it's my job to make it look effortless.
I will take on whatever tasks needed to ensure things run the way they should, everyone is doing what they need to be doing and that you are happy. Whether that's nudging your best man or ushers when they need to fulfil one of their duties, ensure your Mum is getting the VIP treatment (because after all it's an important day for her too), checking all the candles are lit and the music is at the right volume, I've even been known to roll up my sleeves and start stacking chairs and rolling out tables in heels!!
As you might have already read on my About Me page, I have worked as a wedding co-ordinator at venues in the past which I believe gives me a great insight into what happens behind the scenes and means I'm not the typical wedding planner that some venues might dread who'll come in, boss everyone about, whilst standing to the side watching everyone else doing all the hard work. I'm a pitch in, get your hands dirty kind of girl and I want to work WITH your suppliers not lord over them. I truly believe that as a supplier in the wedding industry you remember other good wedding suppliers you work with and you remember those you'd rather not bump into again so for me it's really important to build a good relationship with your suppliers especially because it makes a great team on the day.
Let's go back to where I started with this…have you ever organised a party or hosted an event? Normally you run around trying to ensure everything is running to plan and that all of your guests are happy but you don't really relax and enjoy the party yourself. Well a wedding it is so much more than that. As the happy couple you will already be pulled in so many directions, talking to friends and family, posing for photos, do you really have time or want to be concerned by the logistics of the day? Why not let yourself just be the Bride (or Groom) and enjoy the day knowing it's in safe hands.
Plus when you book me for a set up or on the day co-ordinator package you get Wendy throw into the bargain. Wendy is my wedding bag of wonders. You hear all the time people suggesting you make up a "Bridal Emergency Kit" well Wendy is the ultimate wedding emergency kit! She contains everything which is probably why she weighs a tonne! Cable ties, make up, deodorant, glue, scissors, an iron, sewing kit…you name it she's probably got it. She comes with me on every wedding I do, she's my partner in crime and I think she's pretty fab! Keep an eye out for the adventures of Wendy that will be making an appearance on my social media.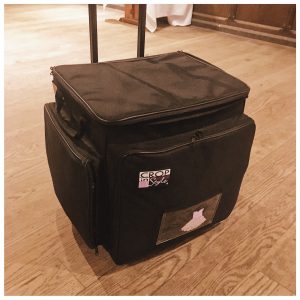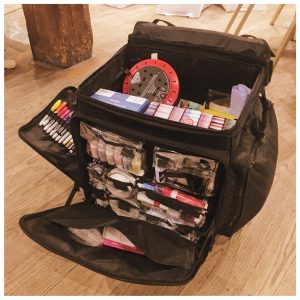 Happy Wedmin-ing!
Amy x
Thanks for reading this blog!

If you have any further questions please feel free to contact me by email or on 07729230136.
To read more of my blogs…