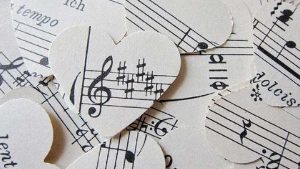 Oh my goodness music is so important, especially at a wedding. You must have watched a scene in a movie and the music kicks in and it makes that scene epic. If a different song was picked would it have that same effect, would you get those goosebumps? Music sets the tone for things. I always find if I'm working to a deadline and it's getting down to the wire and "21 Seconds" by So Solid Crew comes on it really stresses me out but play the London Grammar album and I'm calm. So what is going to be the soundtrack to your big day…how are you going to set the tone?
When you're getting ready. I would suggest quite calm music, you want something happy that will help you keep those nerves at bay.
If you're getting married in a church you'll be expected to go for more traditional songs and hymns whereas for a civil ceremony you have a bit more flexibility. Now one thing to bear in mind is that with civil ceremonies they can be quite funny about references to religion. The idea was that civil ceremonies are meant to be neutral when it comes to faith. I.e. it used to be that you could have Robbie Williams "let me entertain you" but not "angels" (yes angels is apparently related to religion, the examples probably a bit of an extreme but you get what I mean). I think they're slightly more relaxed these days but it really can depend on the area.
In a civil ceremony you will need to select approximately 5 songs;
– ONE to walk down the aisle to
– THREE to play whilst you sign the register ("signed sealed delivered I'm yours…" oops, cheesey I know but I just had to!) Sometimes this bit can take a bit of time so have 3 songs just in case, we wouldn't want there to suddenly be silence
– ONE to play as you walk back down the aisle as a married couple
You'll want music for the drinks reception whether that be a musician or played via sound system. If you choose a musician be sure to find out how many sets they will play and for how long. Also check if they have music they will play during their breaks or if you need to supply this. If you're going to be playing music from an iPad or similar, you'll need to see if the venue have a sound system you can plug this into or if you need to supply this yourself. There are lots of portable speakers out there these days that are more than capable of providing a good quality of sound unless you're planning a wedding in the hundreds then you might need something a bit more professional. If you use the venues sound system be sure to check with them what devices are compatible.
I recently had someone question whether they needed a playlist for during the meal and I would always strongly recommend it. You only need something light playing in the background. You just want to take the edge off the sound of cutlery on plates and it will add to the chatty atmosphere over the tables.
For the evening the traditional options are either a DJ or a band…or both! Most DJs will ask you to provide them with a playlist of songs you want or some guidance of the style of music you'd like. Make sure you include some songs that are sure to get the dance floor filled (I mean, I'm quite partial to the Macarena but that's just me!). If you need some help and inspiration putting your playlist together why not ask for song requests on your RSVPs.
When it comes to bands the possibilities are pretty much endless. There are a lot of bands out there and you can often find YouTube videos to give you an initial idea of what they are like. Do your research though and try to see them at a gig so you can get a true impression of what they're like in real life. Remember videos sometime don't do people justice and on the other hand videos can be conveniently picked to show only the very best bits. Reading reviews are always a good shout too.
The first dance…a very important song of the day! If you're having a band and the song you select is part of their repertoire then you might be able to get them to perform the first dance otherwise have the DJ play the first dance and then the band start their first set straight afterwards so it keeps everyone on the dance floor. Once again, you'll need to speak to the band about what sets they offer. Some will do 2 sets and others are happy to do 1 longer set. If they offer 2 sets try to schedule any evening food for the break between sets so that you don't distract guests from dancing and then don't miss out on the food. If you are having a band, it's worth speaking to them before booking a DJ as some bands are able to play music through their sound system or have a DJ they work with who will offer preferential rates. Either way it might save you a bit of money so it's worth asking the question.
I would always suggest setting up playlists for each part of the day and label them clearly i.e. "Signing the Register" "Drinks Reception". It may also be helpful to number them in the order that they will be played so it couldn't be any simpler for whoever is going to be pressing play on each one. On that note you'll need to make someone responsible for the music at each part of the day. Some venues will do this for you, otherwise if you have someone like me onsite I can help with this or you can make this one of the tasks for a Best Man/Usher.
The great thing about music is that it's a task you can do months and months in advance. You can set up playlists and slowly build and build on as the time goes by. The next time you're serenading your steering wheel to a great tune you can pop that on the wedding playlist!
Happy Wedmin-ing
Amy x
Thanks for reading this blog!

If you have any further questions please feel free to contact me by email or on 07729230136.
To read more of my blogs…