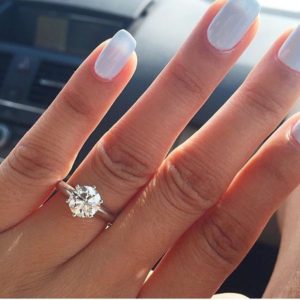 You're engaged! CONGRATULATIONS! This is such an exciting time but where do you start?! I know it can be a bit daunting but don't worry I'm going to give you a few pointers on what to focus on first…
Get yourself some wedding magazines. There are lots on offer; some are available in shops whilst others can be ordered online and they cater for all styles so don't think there won't be one for you! They are great to browse for advice, suppliers and ideas.
Instagram and Pinterest are your friends! Follow hashtags and suppliers that are of interest (*coughs* don't forget to follow me! 🙂 ). Both are a great source for inspiration but don't get too caught up in the idea of what Instagram and Pinterest puts out there. It's not all reality so take it with a pinch of salt and just use it as more of a guide. On my Instagram page I post Wedding tips every Tuesday and I also have boards for inspiration on my Pinterest page that are worth a look at.
Sit down with your Husband or Wife to be and talk about what you have in mind for your big day. Obviously this day is about the two of you so you want to make sure you're on the same page before you start making plans.
You'll need to establish what budget you are working to. It's never worth getting into debt for a Wedding so look at realistically what you can save and what contributions you might get from family (although never assume what they might offer and my advice would be to not start spending any money until you have it in your hand).
Start looking at how many guests you will have attending. The number of guests you are having will impact your budget but also what venues will be suitable. I've written a blog about Guest Lists that might be worth a read because believe me they can be a headache! Click here to read it…
Start researching venues you like, most of the other factors are going to be largely dictated by your choice of venue. Initially get in touch to find out about what they can offer. You don't want to visit a venue and then find out it's completely out of the question, no one needs that kind of disappointment. Once you've found some venues that you like and are suitable, book in for a showround. Always call and book in advance so that you know someone will be available to show you around and that the spaces you need to see aren't in use. One thing to bear in mind is that showround are normally conducted at times when the venue is quiet, which is great because you should be able to see everything and be able to nose to your hearts content rather than peering through doors trying to get a glimse. Now this is not relevant for all venues but if you book a hotel or restaurant it's worth popping in again for a meal or a drink to see the place when it's busy and get a feel for the atmosphere plus you can see what you think of the Chef's cooking!
Once you decide on a venue you'll need to start looking at dates. The summer months are normally peak season for most venues so they get booked up very quickly. It might be worth considering different days of the week or different times of year because in the end you can't guarantee the weather at any time.
Before you confirm your venue you'll need to book your ceremony so you'll need to decide if you want a religious ceremony or a civil ceremony. If you opt for a civil ceremony at the same venue as your reception then the Registry Office you need to book with will be dictated by what office covers that particular venue. Speak to your contact at the venue to find out who you need to speak to.
To confirm your ceremony you need to have at least the basic idea of timings so you can commit to a ceremony time. Check out my blog next week about timings!
A lot of venues offer open days and there are many Wedding shows throughout the year which are a great starting point to get ideas, meet suppliers and pick up some tips.
Ok you've got the ceremony and venue sorted now you need to prioritise booking your other suppliers such as caterers (if required), photographer, band etc. Shop around, do you research and look at feedback.
Ok now we've talked about what you need to do let's talk about what I can do for you… Now there are a lot of things I offer but let me just highlight some of the services that will help you when you're at the very beginning of the planning process:
Wedding Planning Folder – I offer a wedding planning folder that can become your ultimate wedding bible for all your planning all in one place. The organiser includes sections for making notes, popper wallets for storing samples, a place to keep your receipts safe and handy pockets for business cards of your suppliers.
Click here to view on Etsy…
Wedding Calendar – This handy calendar starts from the month you order it all the way to your wedding month even if that's two years away! Each month has an area to fill in your to-dos and it comes with stickers for all those important dates to remember.
Click here to view on Etsy…
Wedding Templates – I've created templates for you to use and complete yourself to keep your Wedmin in order including a budget template, seating plan template, guest list tracker, to do list, event sheet and supplier confirmation. The best bit…they only cost between £3 and £6!
Click here to view on Etsy…
Consultation – There will be a point in your wedding planning process when you might get a bit stuck. Maybe you've got a challenge and you're not sure how to solve it or you're in need or some inspiration or a push in the right direction. These are just some of the ways you can use a consultation. It's your time to use as you wish.
Venue/Supplier Sourcing – I can research and source supplier or venue options based on your location and requirements to save you doing all the hard work.
Moodboards – Pinterest and Instagram are amazing but it's hard to know how to translate that or ideas in your head into reality. I can create a moodboard for you based on what you have in mind but with links to where you can hire or buy the items, making those dreams a bit closer to reach.
Just remember that you're not on your own and help is always available, you only need to ask! It doesn't matter how big or small your budget is, I've designed my services so that there is something for everyone.
Lastly, the biggest advice I can give you is…ENJOY IT!
Happy Wedmin-ing!
Love
Amy x
Thanks for reading this blog!

If you have any further questions please feel free to contact me by email or on 07729230136.
To read more of my blogs…